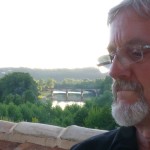 Who am I?
I have heard that we are what we eat. Therefore I am 60 plus years of cheeseburgers, chocolate malts, Cheetos and fries.
My name is Steve Smith. Not that Steve Smith. No. I am one of many, lesser known Steve Smiths. I have been investigated for drug trafficking and beating my wife. On each occasion I calmly told the police they had the wrong Steve Smith. Fortunately, they believed me and found the other Steve Smith. I have been approached for my autograph but had to report to the elderly fan that I was not Red Green, the Canadian comedian who is also Steve Smith.
I am told I am a product of the decade in which I hit age 16.  Therefore, I am a white, Anglo-Saxon, protestant hippie turned middle class, upward mobile Beaver Cleaver.
I am told we become what we own in life.  Therefore, I am a guy living in a man cave on a river in the Northwoods of Wisconsin with a laptop soldered to my knees, several remote controls in one hand and a cell phone in the other.
There comes a point when we all look in the mirror and ask ourselves: "Is that really nose hair growing out of my ear?" Ok. That's a little graphic I know.  But, I have asked myself, "How did I get this way?" and  "Who are you?"
After years of trying to not be my father, I see my father in me.  When I walk I can see my father taking his awkward steps at this age.  When I talk I hear my father's voice.  When I watch my son and listen to him, I see and hear 'younger me.'  I also see his mom, of course.  Thank the Lord he has a large dose of his mother in his DNA.  It occurs to me that there are certain ingredients that get handed down from one generation to the next: More than the DNA, more than the property and wealth or poverty and subjugation, more than attitude and personality. There is within us the hope and fear of our ancestors, the spirit that drove them to an early grave or long life in search of freedom and happiness.
My search for identity has taken me back in time.  My love of history has propelled me on a journey in which I have sought to find my ancestors place in the history of humankind. I decided to share my findings and my passion with my relatives. Given the time to gather information, perhaps I can offer this history as a gift to my nieces, nephews, and grandchildren in our various families. It is a record of who we have been and who we are.  I invite input from others: stories, photographs, etc. Help me build this tree fort.
My father was a Smith, descended from Peter Smith of Westmoreland, Virginia circa 1650 and the Hughes clan of Ireland.  My mother, a Weiherman, descended from German families that lived for centuries in Switzerland and Bavaria. My wife's family is also detailed in these pages.  Her father, a Slaymaker, descended from Mathias Schliermacher of Lancaster PA and the Parkers who arrived in New England in the 1600s. Her mother, a Whitington, has a rich family history that traces back through a variety of paths to the monarchs of Europe and the Fourth Century (350 A.D.) and the entrepreneurs of the middle ages.
Ours is a fascinating tree filled with success and failure, frontiermen and explorers, Kings and Queens and also paupers who pulled themselves up by the bootstraps.  If you choose to find your way through these pages you will find the Vikings from the year 350 A.D., the first settlers of Jamestown and the Mayflower passengers.  We have plantation owners in the deep South, patriots and loyalists from the Revolutionary War, pioneers of Kentucky and the early farmers of the Midwest.  We have protestants who fled from Catholics to save their lives, and Catholics who fled from Protestants for the same reason; all killing each other in the name of God. Of course, the further we go back in time, the more we share these ancestors with many others on this earth. It is incredible to see, for example, how a 350 page book can be filled with the descendants of one set of parents who came to the New World in and around about 1638.
It took a large, sprawling tree with a vast root system to provide a single branch for my family. And it took a wide variety of DNA to make me what I am today and I can destroy all of that good input with one bag of Cheetos.
Namaste…. SS
Editor's note: In  real life Dr. Smith is a retired educator with over 35 years of service in our nation's schools.  A former high school history teacher, Smith earned his doctorate at Montana State University in 1986. His long forgotten doctoral thesis detailed his experience living amongst a band of teachers on the remote, wind swept plains of Montana.  He has been a custodian, juvenile prison teacher, middle school principal, curriculum director and District Superintendent of Schools.  He founded the Graduate Program in Education Administration at a midwestern private university and retired to the northwoods of Wisconsin where he lives with his wonderful wife Nancy. They have a clever son who shall remain nameless and a dog named Murphy who remains shameless.
Dig Deeper! For quick links to a family that may be of interest to you:
SMITH FAMILY HISTORY   WEIHERMAN HISTORY   SLAYMAKER HISTORY  WHITTINGTON HISTORY