The Family Tree: From Garden Plain (2016) to Shropshire (1550)
I have avoided Guided Tours for most of my life and now that I am about to embark on one as a "Guide" I want to think ahead to avoid becoming a pretentious plonker, the Guide From Hades, as described by Mark Twain in his journal: The Innocents Abroad.  As my classroom students often advised me: 'Less lecture is a good thing.'  So in order to fill your head with facts I will create thumbnail sketches of ancestors, properties, events and places relevant to family history. As with a good menu in a cafe, you can pick and choose what you digest. I will provide online links should you choose to dig deeper into any nouns that crop up in this blatant attempt at electronic journalism.
Let's start with the family tree and lay this out in pictures.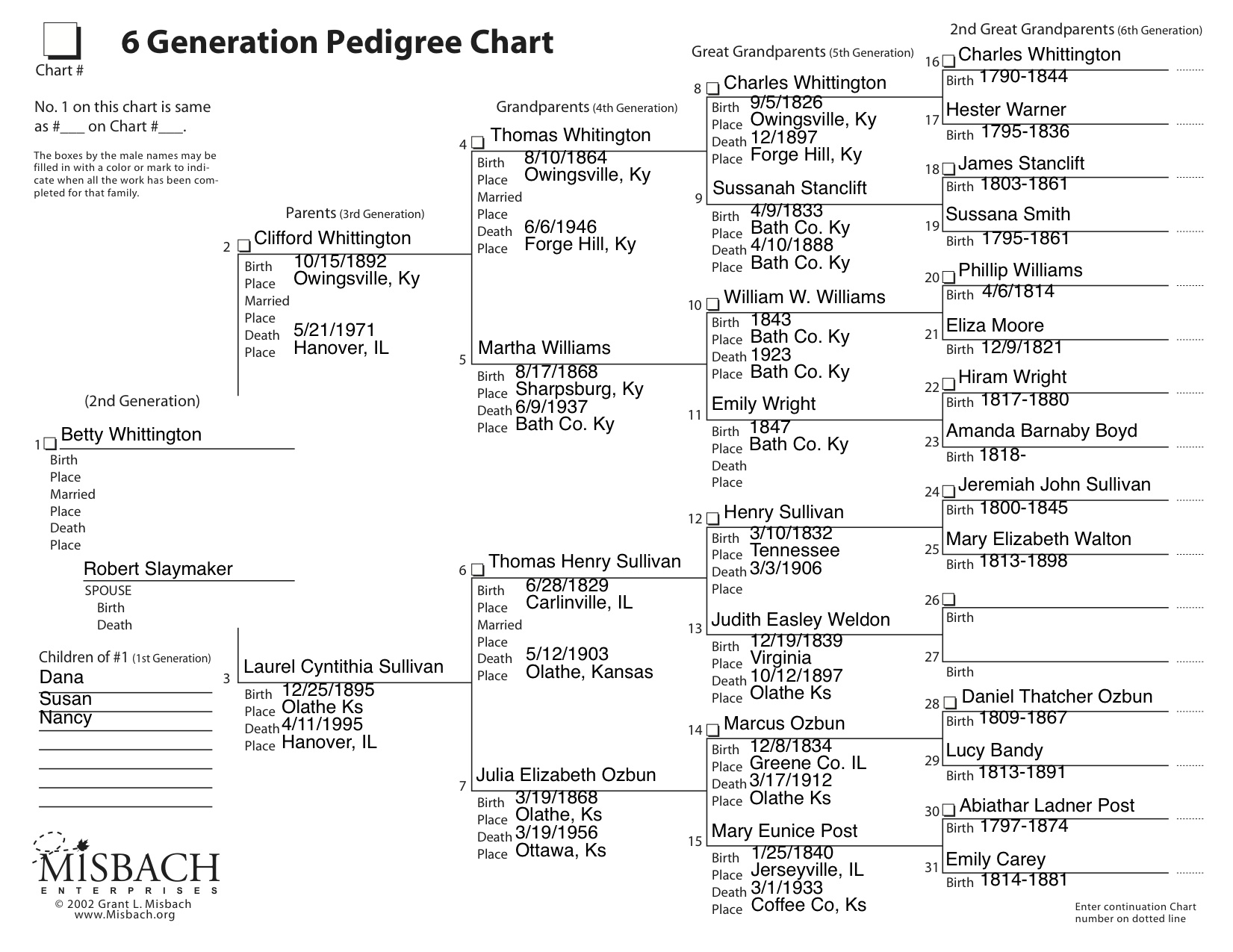 This tree above shows 6 generations of the Whittington Sullivan tree, ignoring Robert's Slaymaker Tree for now. The Sullivan and Whittington branches each go back in time to the monarchs of Europe. In a later post I will elaborate on the Sullivan links to England and Wales. We will be visiting villages important in Sullivan and Slaymaker family history. For now, in an effort to keep this simple, let's focus on the Whittington ancestors who came from Shropshire, England and neighboring shires.
At the top of each column on this graphic, at steps 2, 4, 8 and 16 we find four generations of Whittingtons who settled in the hills of Kentucky.
Charles (1790-1844), Step 16, died in a barroom brawl, a knife fight that began as a political argument among those who favored James K. Polk and those who thought he was a loser. It is suspected that alcohol fueled the tensions that led to death. Charles was not the first in the family to die in a political battle.
Notice that his wife was Hester Warner (#17). Her father owned a Kentucky Plantation that would disappear following the Civil War. She was descended from the Warner family found in the family tree of George Washington.  George was not a great great grandfather for Hester or anyone reading this with ties to the Whittington tree. George and our present day Whittingtons appear to descend from  Augustine Warner, found elsewhere in these growing pages of family mirth.
Let's turn the page and find the folks who preceded Charles in Kentucky. Oooops. Before we do that let me point to the Cherokee branch of the family at Step 20 on the above chart. Phillip Williams was the grandson of Phillip 'Buckspike' Williams a renown Watauga frontiersman whose life as a trapper, trader, soldier, long hunter and survivor found him sharing the wilderness with a great uncle of mine, Bailey Smith. It is believed that Buckspike was the son of a Cherokee woman and that he married a tribal woman. Their pedigree is found at this link.
Now let's turn the page. At Step #1 below, I reference Charles and Hester again, hoping to help folks picture this progression from page to page. The tree gathers a few famous names now in Colonial history, not the history I taught in high school. We skipped through Virginia history when I taught it in an attempt to get from Jamestown to the Revolutionary War, giving lip service to the House of Burgess, French Indian War and Stamp Act. Whittington ancestors were embroiled in the efforts to establish a foothold on this continent, develop an economy, establish a church and define a working relationship with not just England, but Holland, Sweden, Spain, France and Portugal as well.  The Wisharts (#5, 10 & 20), Taylors (#11 & 22), Fassitts (#9 & 18) and Littletons (#17) were all important names in the making of Virginia. Taylors also appear in the Smith tree of Virginia at that time. Notice that Isaac Whittington (#4) resided and died in Somerset, Maryland in 1815.  Thus begins the migration from the Atlantic Coast to Garden Plain, Illinois.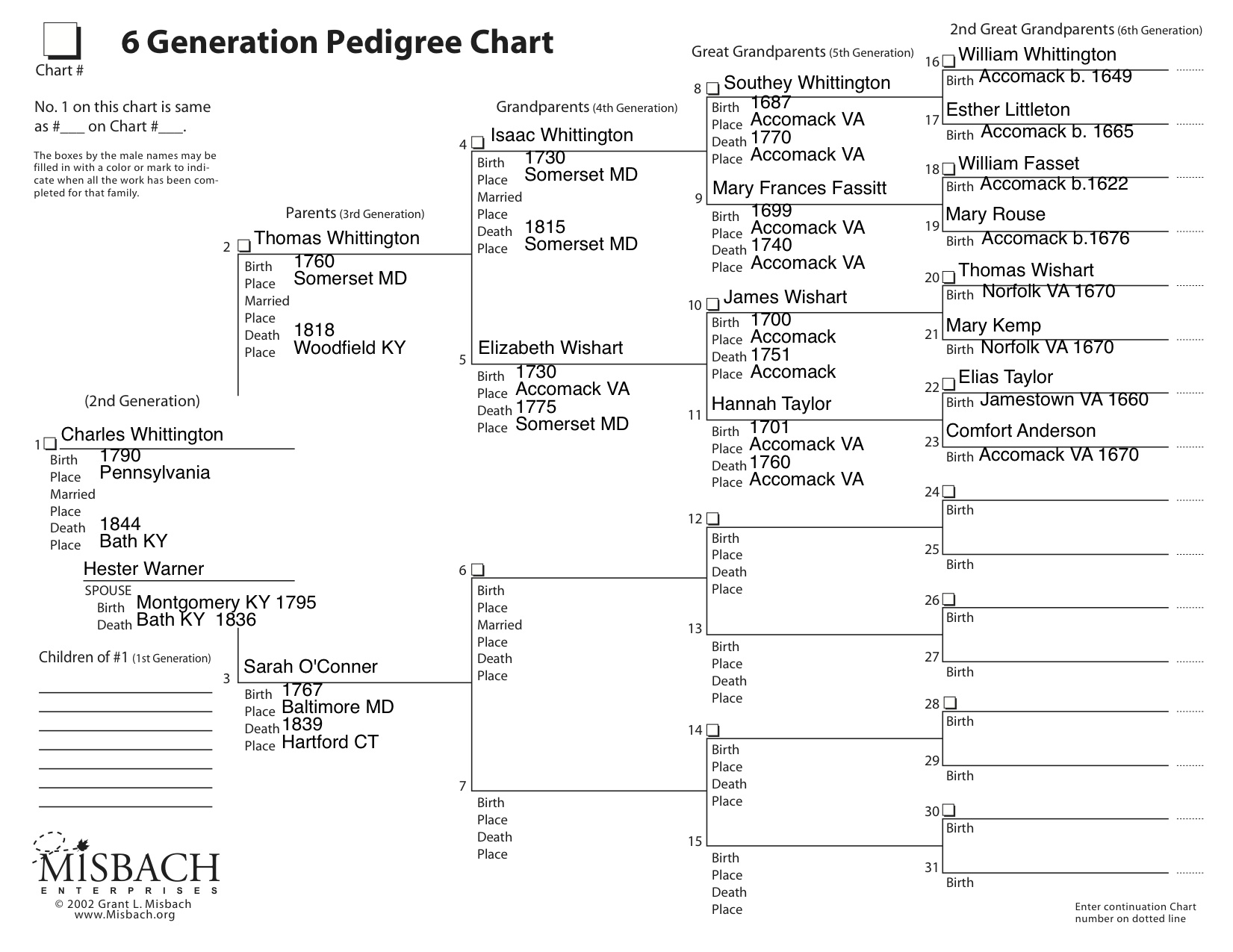 Southey Whittington (Step #8 above) is the man whose birth represents the union of the Whittington tree (#16) with the equally renown Littleton tree (#17). His grandfather, Southy Littleton, (#6 below), was a colonial commissioner to the Conference with the Iroquois Confederation. Southy Littleton (#6) died in Albany, New York in 1687, while in service to the people of Virginia and New England. He was trying to develop a lasting alliance with the Confederation in the aftermath of the bloody King Phillips war of 1678-79.  Southy Littleton's wife, Sarah Bowman (#7 below) is of the Edmund Bowman (#14) family that was instrumental in the growth of Accomack. Southy's father, Nathaniel Littleton (#12), came to Virginia from Shropshire and married Ann Southy (#13). Her father (Henry, #26) and siblings died in the Jamestown Massacre (1622). Nathaniel is shown below as the son of Sir Edward Littleton (#24) and Mary Walter (#25) of Shropshire, England. Edward was the Chief Justice for South Wales. Mary's father was the Chief Justice for North Wales. The Littleton line is shown as descending from the King of England at this link, Longshank's.
Note the name Alice Ball (#17). While the Ball name is prominent in the lineage of George Washington, the first President was not descended from our Alice Ball.
We will be spending our first few days in and near the village of Ludlow, Shropshire, at the heart of the properties that were important to the Whittington, Littleton and Walter families. In our next installment of this rambling discourse I will share some of those properties and their importance to family, Welsh and English history. Cool stuff.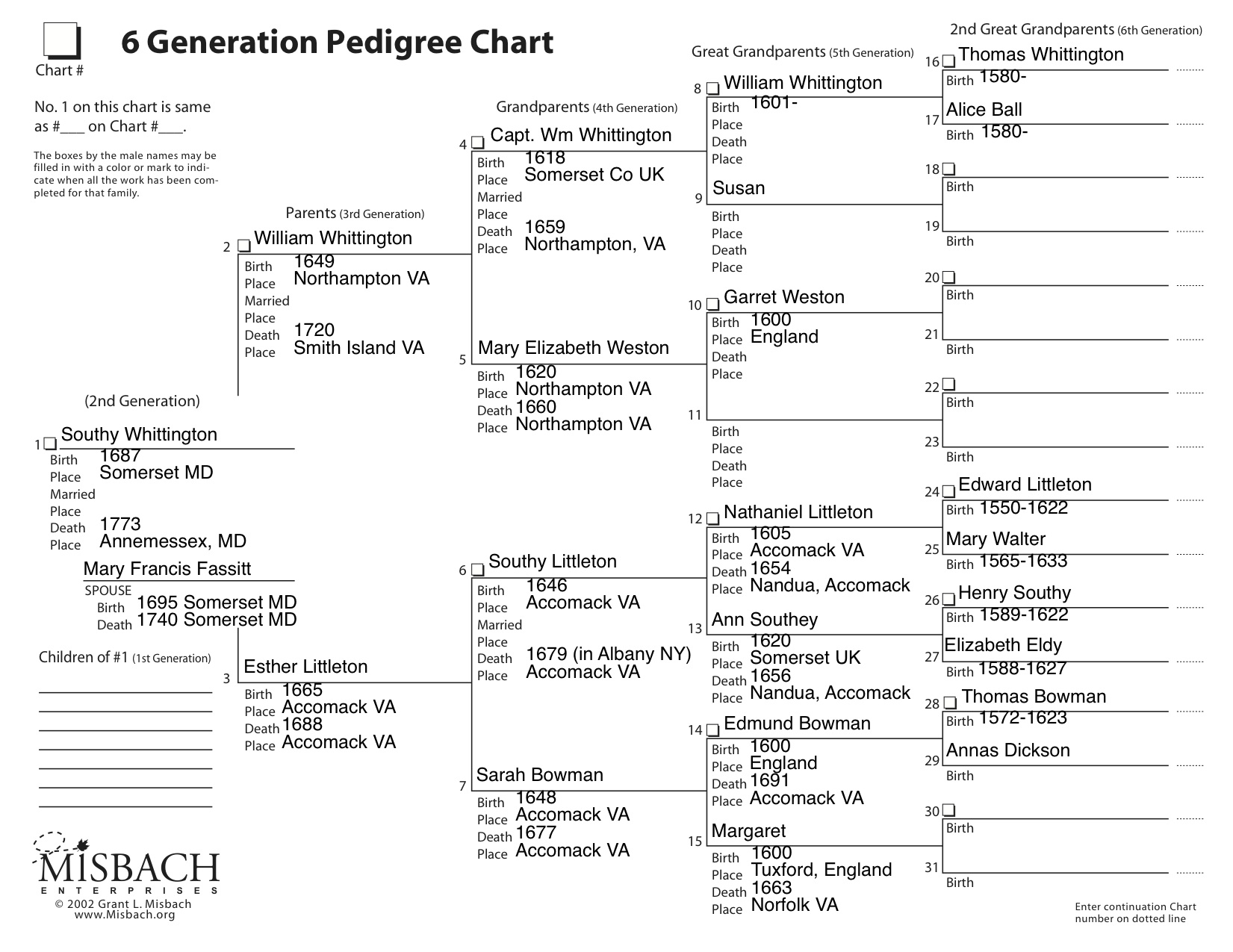 This concludes the cursory review of 16 generations of folks who sought religious freedom, economic success and transported the family DNA from a village in the Welsh Marches to the Garden Plain, from one peat bog to another.