John George Weiherman was born September 22, 1863 in Thunhofer, Ansbach, Bayern.  We will refer to him as George to set him apart from his son and our grandfather,  John. George married Christiana Johanna Huebsch, born January 4, 1859 in Dentlein, Ansbach, Bayern. The Census Report in 1900 identified him as George, a farmer who came to America in 1889. Christiana also migrated in 1889. Her first name is spelled four different ways in the record books. If you search for her family you will find variations in the spelling of her surname, including Huebach and Aubesch. If you look for her childhood home in Germany, it may be still standing in Dentlein. My sister April visited Dentlein several years ago and chatted with a senior citizen who remembered the family name 'and such.'
John and Christiana added six children to the world population including four sons and two daughters all of whom made it to adulthood. They are pictured here in their Sunday best.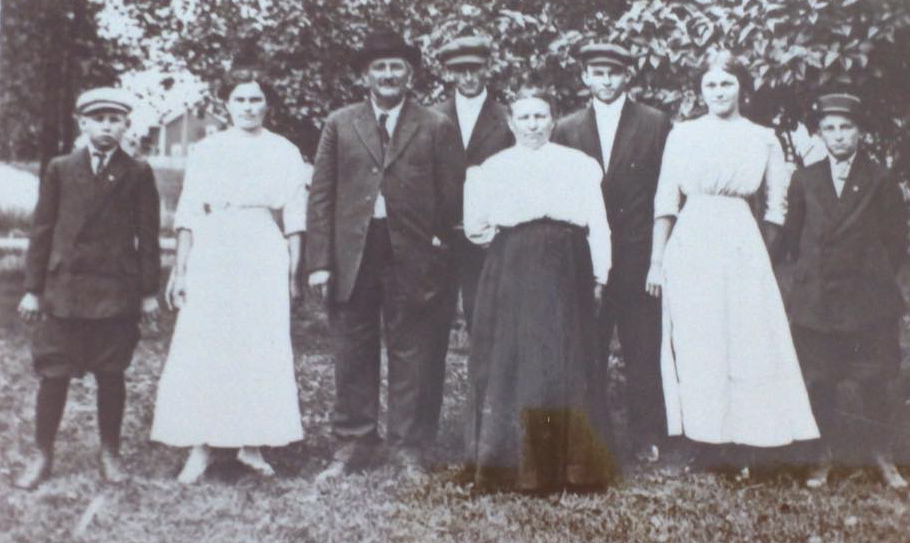 From left to right we see Louis, Caroline (Lena) Carstedt, John George Weiherman (the Patriarch of this clan), John Mathias Weiherman, Christiana Huebsch (the Matriarch), William "Chief" Weiherman, Mary Weiherman Kaus and Leonard Weiherman.
The oldest of the children, our grandfather John Mathias Weiherman, was born on October 15, 1890 in DeKalb County, Illinois. Names changed as Europeans came to America: Johann became John, Mathias would become Matthew, and so it goes with assimilation and Anglicization. If immigrants had been forced to speak the native language we would all be speaking a variation of an Algonquin tongue, so to speak.
I make light, but the truth was a harsh truth. Our German ancestors in DeKalb County faced some prejudice and discrimination not unlike that confronting other ethnic groups coming into the New World over the centuries. The Weihermans joined together with other German families and basically formed an enclave in the county. They organized a German church, Immanuel Lutheran in Hinckley, and they supported one another in the conduct of farming and business. In this regard they were very much like other ethnic groups. Their status as Americans was subject to great scrutiny in times of the Great World Wars with Germany.
My mother, Doris Christine Weiherman, reported to me that World War II created a great deal of stress for her father, the above mentioned John Mathias Weiherman, who died as the war concluded in 1945. His father, George, lived five years longer, passing away in 1950. They were often held suspect by some community members who feared that Germans in the county 'just might be up to no good.' My mother thought it fortunate that they weren't carted off to internment camps like the Japanese.
The children of John George Weiherman and Christiana Huebsch are part of a family tree that I describe as "spreading from left to right on the kitchen table." Anyone who has charted a family tree on paper and included known cousins, knows exactly what I mean. It takes more than 'typing paper' to do the job. It isn't wide enough to do the job. There is alot of 'begatting' going on in the 1800s in farm country. It takes butcher paper to chart the offspring. Let me digress further with this observation before laying out the tree for you in this software system.
My wife, Nancy, is (roughly) half Brit and half German. Pursuing her British roots was relatively easy, an entirely different experience than that of pursuing her Germanic heritage. Nancy's mother's British roots run deep through 1,800 years of history. I can trace the line from England to France (1066) to Norway (350 AD). The Normans introduced a census and tax system that tracked the citizens. The Brits maintained a thorough record of royal blood as it related to the distribution of land, wealth and titles. Nancy's father's German ancestors disappear.  Many of our immigrant ancestors, those who set foot on Ellis Island or other port facilities, may be the end of a line in our search. It has been hard to find ancestors in Europe, if they were not aristocrats.
It is difficult to trace German ancestry in Germany from my desk on this side of the Atlantic. It is easy, however, to expand the German enclave that settled into DeKalb County. So, let's do that. Our tree may have shallow roots in Germany but we can still identify the many branches in DeKalb County. In point of fact, when I trace my mother's German roots I find the Weiherman clan migrating from the Germanic region of the Alps in Switzerland, into a (historically speaking) brief stay in Bayern, in what would become the nation of Germany.
The oldest of the Weiherman boys was my grandfather, John Mathias (Matthew). Next in line was Margaret Caroline (Lena) who was born in 1892. Those three names follow her throughout her life in various arrangements found in documents. The 1900 Census identifies her as 'Margaret C.' age 7. In the 1920 Census there is no mention of either Margaret or Caroline. She has become 'Lena'. She is 27 and single. She is living at home with mom and dad and the twins, Louis and Leonard.
The 1930 Census reports life changing events: She has become 'Caroline Carstedt', a homemaker living at 609 North Sixth Street in DeKalb. She had three daughters: Louise (8), Adele (5) and Irma (1).
'Lena' married Art Carstedt (1892-1973). A 1950 directory of DeKalb informs us that Arthur F. and Caroline M. still resided at 609 North Sixth Street in DeKalb. Art was employed as a regulator in the Wurlitzer plant in town. Glancing through the directory one finds that Wurlitzer was a major employer in town. An Edmund Carstedt also worked at the plant. He resided on Shipman Street with his wife Jessie P. and son Roger, a student at the 'teacher's college,' (later known as NIU).
Frederick William ("Chief") Weiherman followed 'Lena' in 1894. He married Hildegard Hermina Helble who had to known as 'Triple H'.  At age 25 Chief was living at 3670 Gravois Street in St. Louis, Missouri with Hilde, age 23. They were the parents of Esther age "three and one half" per the 1920 Census report. A Gus Rolling, age 47, was a boarder in the same house. As Chief was listed as renting the home, I picture a duplex. We will explore more details regarding the exploits of Frederick William 'Chief' Weiherman at a later date.
Mary Louise Weiherman was born on August 15, 1897 in rural Alabama. Say what? It's true. The family moved south momentarily and Mary took advantage of the warmer weather before returning to DeKalb County, Illinois. She married Albert Kaus (1890-1974). She died on October 19, 1981. Albert was the son of August Kaus (b. 1842 in Germany) and mother Gotlielien Rukubar also born in Germany in 1853. Albert had a younger brother, Harry. From the 1910 Census it appears that Harry and Albert were the last in the line of eight Kaus children. Gotlielien reported that she had given birth to eight cildren in her lifetime and eight remained alive in 1910, at which time she was 57 years of age. Albert's 1917 draft registration card tells us he was of medium height and build, and fair haired with blue eyes. His 1917 draft card also tells us he had a wife (Mary Louise) and one child. He claimed an exemption from the military as he was a self employed farmer. When WWII rolled around Albert's draft card revealed that he was still blonde, five and one half feet tall and 161 pounds. He was still farming the same lands in Pierce Townhip, DeKalb County. Someone had to feed America!
The twins, Louis and Leonard, arrived in 1900. The 1900 Census Report has an odd entry. Of the two twins only Louis has a name presented for the record. Leonard is not identified by name, but rather as "infant". Louis lived a long life (1900-1991) passing away in Waukesha County, Wisconsin.  He married Hazel Jandt out of the Squaw Grove neighborhood that also played host to the Leifheit and Baie families in our tree. Hazel's parents, Herman and Anna Jandt, were also first generation immigrants from Germany.
Leonard August Weiherman was less fortunate than his twin, Louis, in terms of longevity of life. I could find less documentation related to marriage, education, job or draft records. I found a death record that establishes his death on May 31, 1922 in Los Angeles, California. His appendix burst and got the better of him.
Those are the thumbnail, biographical sketches I have to offer on the Weiherman grandparents and grand aunts and uncles of mine. I will come back to the in laws, and their extended families at a later point. Before we marry my Grandfather John off to Grandmother Laura Kopfer I would like to interject a call for stories that any reader might have  to offer. The stories give life to these folks, so much more so than these factoids gleaned from paperwork. Dot Rissman MacKay has sent some terrific letters that we will embellish and add to this site. There has to be a story about the brief family move to the shack in Alabama! I will accept any and all help in this effort. Let's grab a few brats, a hearty pint and move on to the Kopfers.
John Matthew (Mathias) Weiherman married Laura Kopfer. Grandmother Laura was born September 4, 1893 in DeKalb County, Illinois. Her parents were Robert Kopfer and  Mary Caroline Temma. She appears in this photo with her mother and siblings. Laura appears to be photobombing the picture long before photobombing became popular.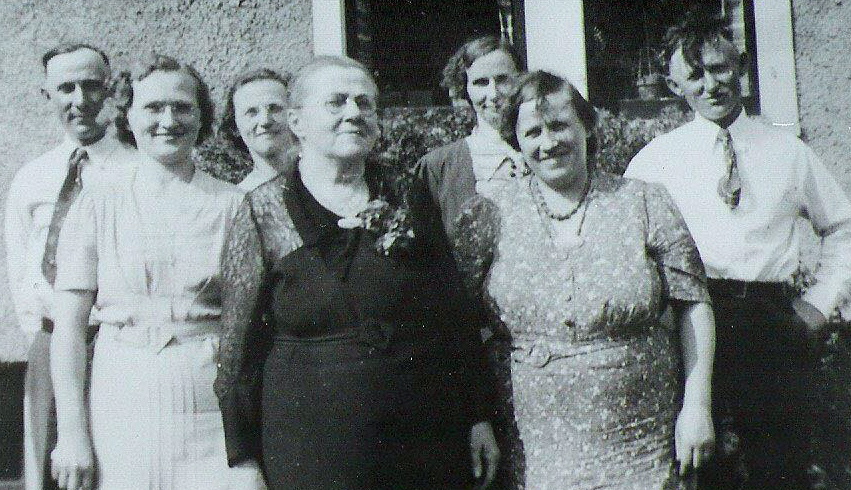 From left to right we have Floyd Kopfer, Lillian Kopfer Pooler, Laura Kopfer Weiherman, Mary Temma Kopfer, Cora Kopfer Liddick, Ellie Kopfer Leifheit, and Harvey Kopfer. There appears to be a bit of a devilish look in Mary Temma's eye!
Harvey Henry Kopfer, the eldest of the children, was born April 18, 1890 in Clinton Township of DeKalb County. Records indicate that he held draft cards for both World War I and II.   His draft registration card in 1917 identified him as "medium height, medium build, dark blue eyes, brown hair." He was further identified as single, 27 years of age and a farmhand for Thomas Roberts. In 1942 the draft card reads a bit differently: He was age 52, 5 feet and 6 inches tall, 145 pounds and self employed. His hair was now gray with age and at age 30, he had a married a woman identified as Emma. They resided at Rural Route 1 in Shabbona, Illinois.
The 1930 Census Data provides a clue about Harvey's father. The record states that Robert Kopfer was born in Wisconsin. This clue may help us identify Robert Kopfer's parents. This piece of info conflicts with data recorded in a previous census report that presented Robert Kopfer's place of birth as Germany. Harvey's mother, Mary Temma, was identified as born in Germany.
Great Uncle Harvey and wife Emma are further identified as farming on a rental property. The census in 1930 noted whether a person owned a "radio set" and Harvey and Emma did. I have found no document identifying Emma's surname.  Finally and perhaps most intriguing to me, Harvey was identified as a veteran of World War I.
I had to learn more about that experience. We have relatives who died in the Great War to end all wars. How did Harvey survive the atrocities? For the answer, I turned to my cousin Dorothy 'Dot' Rissman MacKay. Please follow this link  to read Harvey's letters from his tour of duty in Siberia. Harvey died on January 21, 1954.
Grandmother Laura Kopfer was born in 1894 and we will elaborate on her life at another point in this anthology.
A year later in 1895 the Kopfer's lost a son, Adolph, at his birth.
Ella Kopfer arrived on Earth in 1897 and was identified as 3 years old in the 1900 Census. Ella married Elmer Leifheit. This will be the one of many Leifheits appearing in our family tree. Before I digress too far into the Leifheit branch I need to complete the introduction of grandmother Laura Kopfer's siblings.
Cora Ann Kopfer was born December 6, 1898 in DeKalb County. She married Samuel Wallace Liddick on December 20th in 1916. Sam lived a long life from 1891 to 1982.
A sister Lillian (Aka: 'Lil' and 'Lily') M. Kopfer was born October 1, 1900 and died November 20, 1976. She was the wife of Hershel E. Pooler (1905-1976). He preceded Lillian in death by only eight months.
Floyd Kopfer was born in 1906 in DeKalb County. He married Helen Louise Leifheit (1908-1995) in the Immanuel Lutheran Church in Hinckley, Illinois. Floyd died February 15, 1962.  Helen was the daughter of Charles Leifheit and Wilhelmina S. Hartman. The name 'Wilhelmina' was popular in the various German families and was often converted to 'Minnie' among friends and relatives.
It has come to my attention that my Grandmother Laura may have had a sister Mary. I can find no evidence that Robert and Mary Temma Kopfer had  daughter named 'Mary'. But it is possible that 'Mary' escaped detection in two ways. 1) If 'Mary' was born and died between 1890 and 1900 she would have escaped detection in the 1900 census. Immanuel Church Baptismal records may hold a clue. 2) If 'Mary' was born after the 1900 census, she passed away prior to Robert's will was probate in 1908, as she is not listed among the surviving children.
And now the fun starts: John and Laura have kids. Their children marry, introducing new surnames into the mix, some of whom are rooted in the DeKalb County German enclave. Others, not so much. Follow this link to the madcap adventures of Them Weiherman Kids.