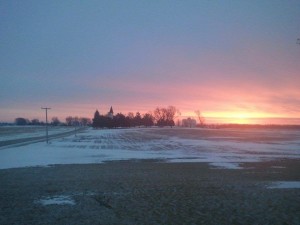 Pictured above: The Immanuel Lutheran Church in Hinckley, Illinois (DeKalb County)
The Weiherman Family history is under construction. Lineage needs to be charted, connections refined, immigration established and records organized. The Table of Contents (see below) will begin to fill as data, pictures, trees and stories are added. Participation in this project is welcome. A big thank you to my cousin Dorothy (Dot) Rissman MacKay for getting me started in developing this part of our famnily tree.
Our effort will begin with this cast of characters taken from the epic, 19th Century drama: 'Germans Invade DeKalb County'.
THE WEIHERMAN and KOPFER FAMILY
Known for their madcap family reunions these rowdy Germans brought down the house at Immanuel Lutheran Church in Hinckley, Illinois. With their father Robert Kopfer's violin leading the way through some rifs that would make the Charlie Daniels Band jealous and with Great Granny Mary on the organ, the Kopfers certainly gave life to a congregation. Mary Temma was the matriarch of this clan. Her husband Robert Kopfer had passed away in 1908, many years prior to a photo op.  Our grandmother Laura Weiherman seems to be photo bombing a family portrait long before photo bombing became chic. Laura united in marriage with John Weiherman nearly one hundred years ago. Cool stuff happened including the lives of many children, grand children, great grandchildren and great great…. into infinity and beyond. For the photos and biographical sketches press ahead.
TABLE OF CONTENTS
FAMILY TREES
Trees that I post will include only the children of John and Laura Weiherman and their siblings and predecessors. I will respect the privacy rights of my siblings, cousins and their offspring.
Conrad Temme & Caroline Grimme: 3 Generations of Descendants
THUMBNAIL SKETCHES
John Mathias (Matthew) Weiherman
Tracking Down the Immigrant Grandparents
'Chief' & 'Wifey' Weiherman and Camp Arcadia
DOCUMENTS
Advert for sale of Robert Kopher's Farm Property
Last Will and Testament of Robert Kopfer 1908
Last Will and Testament of Conrad Temma 1900
PLAT MAPS
Townships in the Plat Map Research
Part I: Family Farms : Clinton Township, DeKalb Co. IL
Part II: Family Farms: Squaw Grove Township, DeKalb Co. IL