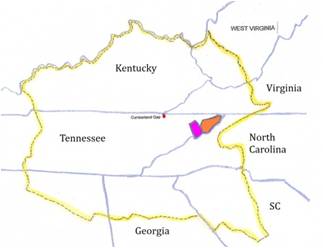 THE WILDERNESS COUNTRY 1772
On the map to the left, The Watauga Settlement (orange) is shown alongside the Nolichucky Settlement (purple). The region was home to the Cherokee and a number of other tribal nations that had lived for centuries in the Appalachians. A number of our ancestors in various family lines passed through this country on their way north and west, seeking a better life. Great Uncle William Bailey Smith established the line that separates Tennessee and Kentucky, Virginia and North Carolina. Nancy's great grandfather, Phillip Buckspike Williams, made his living in this hill country. It is believed he was descended from the Cherokee. The natives were unfamiliar with land ownership, let alone the sale of land, deeds and rules of proprietorship.They were stunned by the fact that they were expected to stay off the land once ownership transferred to the settlers. Watauga was an area associated with the Long Island of the Holston and this region would provide a spark in the eventual American Revolution.
Told by the British that they could not settle in Watauga, the pioneers rebelled. Removed by distance and rough terrain from the Carolina and Virginia capitals, they threatened secession and considered autonomy. They began taking steps to engage in self governance. Moves were made that remind me of the citizens of Swallowfield, Peter Smith's homeland in England. Our family trees carry many of the names of families that were at the center of this crisis in colonial history.
The Smith, Davis, Kincheloe and Simpson families all traveled down Bailey Smith's Wilderness Road into Kentucky. They settled in areas along Licking Creek and in counties that would be named Nelson and Muhlenburg. They are referred to in local histories as the 'pioneer family in Paradise, Kentucky.' For more about these pioneer ancestors in Kentucky please follow this link.
One click on this second map should enlarge it enough for the viewer to pick out Licking Creek to the right of the map. Hit your back button to return to this page.
For more information about Watauga, Great Uncle Bailey Smith (brother of Peter Smith of Round Hill), I encourage you to click on this link.