Present day Whitington family members are descended from prominent families in the Midlands of England, especially Shropshire. The Whittington, Littleton and Walter families played significant roles in the governance of the region, including Wales. The system of land ownership was predicated on the fact that the monarch owned the property and the family occupied properties at the will or whim of the throne. For that reason alone it would be wrong to say for example, "The Whittingtons owned Whittington Castle." In fact, they didn't. I can't find any evidence that a Whittington ever lived there, slept there at a sleepover, passed out on a couch at a beer fest or dined in the great hall. The castle is referred to as 'Whittington' because it was originally assigned to the Lordship of Whittington and found in the village of Whittington. And yet Betty and her family do descend from other surnames that called the castle home over the course of centuries.
Let's use the Whittington Castle as a good place to start our journey, and our understanding of family properties. As we proceed I will be adding a few more names ancient grandparents. Of the seven English villages named 'Whittington' the castle and this village is found 15 miles to the north and west of Shrewsbury, Shropshire.
The castle is open to the public and has survived for close to one thousand years in various stages of repair and disrepair. The proximity of the fortress to the Welsh border is evidence that it served as a Norman garrison for troops engaged in securing the Welsh Marches. The Marches is an area (not a Sousa musical piece, nor another name for marsh, as I once thought). It is that land in Chester, Shropshire and Herefordshire on the English border and lands of Wales to the west. The control of the land was subject to dispute often resolved momentarily by war and considered by all sides to be resolved until such time as someone decided it wasn't actually resolved and then it was a matter of war once more.
When the Romans were driven from the island, the Saxons gradually moved westward into conflict with the Welsh kingdoms and warlords. Dykes were built (Wats and Offa's) to establish boundaries and barriers, in the same manner that Romans had constructed Hadrian's Wall to fend off the Scots. These dykes were daming up walls of water as they are designed to do in Holland. Rather they are speed bumps that extend for 80 miles or more from north to south along the Welsh border. Evidence of what I will call trench and escarpment works can still be found today.
Other castles were built along the Welsh frontier and several were, from time to time, in the custody of family members: Stokesay, Ludlow, Hopton, Riccards, to name a few. Distinguishing between a castle and a manor is some times difficult. Whittington may have begun as a Norman manor, but progressed with additions into a castle during the reign of King Henry II in 1165. We will explore several of these castles later. I have to caution you that I can only handle a few castles before I run out of gas and go looking for a park bench with a scenic view and a pub with a refreshing ale.
Whittington Castle not only moved from one family to the next, but also from kingdom to kingdom. With the death of King Henry I in 1135, England fell into a period called The Anarchy, in which no one person ruled the land. In the battles among barons and family for control of the crown, Whittington Castle ceased being English and became part of the Welsh Kingdom of Powys. Wales was divided into many principalities at the time.
Over the course of several centuries the castle remained a property under the control of the fitz Warin family. Several lines in our tree descend from Fulk fitz Warin IV and his life in Whittington castle. And yet folks with the Whittington family surname never resided there. While Betty's Whittington family does tie into the Fulk's tree in the 1600s, her mother, Laura Sullivan, also descends from Fulk fitz Warin. Here's how it happened.
Fulk IV (1210-1264) and Constance de Toeni (1233-1265) had several children and grand children from whom our family descends:
William fitz Warin (1251-1315) married Alice de Somery (1252-1315) and their daughter, Asselm, married Thomas Lyttleton (1240-1310) (17th Great Grandparents). Whittingtons later marry into this tree when Esther Whittington married Southy Littleton in Virginia, 1660.
Fulk IV and Constance have a son Fulk V (1251-1315) who married Margaret verch Gruyffd (1258-1336) of the Welsh royal family (Llewelyn the Great). Fulk and Margaret have two children, each of whom are grandparents in our tree as well.
Daughter Hawise fitz Warin (1276-1315) married Ralph Goushill (1264-1310) and the descendants arrived in the New World via Obadiah Bruehn (1638). The path to Obadiah goes through Laurel Sullivan and her Osborne tree out in Kansas. Goushills are a link to English royal families.
Son Fulk V fitz Warin (1280-1336) and Alinore Beauchamp (1278-1341) married and had offspring that descend through the Drake family of British explorers into the family of Abraham Pierson in New England (1638). Several generations later this line also passes through Laurel Sullivan's mother, Julia Elizabeth Ozbun (1868-1956).
While the Fulks are Barons of Whittington their surname was fitz Warin. They were major contributors of DNA in the present day family tree.
WRT16, the Whittington Roots Tour of 2016, took us to some, but not all of the places, found within our family tree in Shropshire, England. On the map below I have identified the communities found within the ancestry of Nathaniel Littleton. Nathaniel was our immigrant ancestor and one of several links to the royal families of Europe found within the family tree. More about Nathaniel can be found at this link: Nathaniel Littleton. Nathaniel's grand daughter, Esther Littleton married Captain William Whittington. She was one of his five wives and lived just long enough to provide a child from which our Whitingtons descend.
Nathaniel was born at Hopton Castle, in the village of Hopton, designated at site 1L on the map below. His father Edward and mother, Mary Walter, are found residing at 2L2W (L for Littleton, W for Walter and the 2 indicates 'Generation 2).
---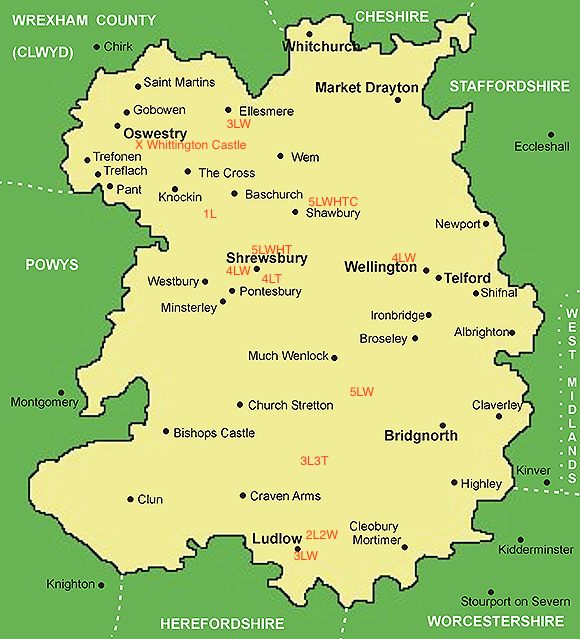 I will now provide a key to the remaining items on the map and link you to more information regarding specific families.
2L2W Edward Littleton married Mary Walter and they resided in Henley Manor to the east of Ludlow. He was the Chief Justice of North Wales.
3LW are the parents of Mary Walter: Edmund Walter and Maria Hakluyt. They were residents of Ludlow and buried in St. Laurence Cathedral. Edmund was born in Oteley (3LW) near Ellesmere. The Hakluyts were of Herefordshire, the next shire south of Shropshire.
3L3T represents Rev. John Littleton and his wife, Alice Thornes. Thornes descended from the Kings of England. Reverend John and Alice resided in Munslow, just to the north of Ludlow. They were Chief Justice Edward Litteton's parents.
4LW is the home of John Walter and his wife Margaret Gethin in Shrewsbury. Margaret Gethin (4LW) was born in Wellington, near Ironbridge. John and Margaret were the parents of Edmund Walter. We remember Edmund as the Chief Justice of South Wales, buried in St. Laurence Cathedral with his wife, Maria Hakulyt.
4LT is the home of Richard Thornes and his wife Margaret Vychan in Condover. The Thornes family is found in the line descending from British royal lineage. We did not visit any site related to the Thornes family.
5LWHTC is the home of Elizabeth Corbet and the famous Corbet family of England from which Whitingtons descend. They resided at Moreton Corbet, Shropshire, England. Elizabeth married Thomas Trentham of Shrewsbury (5LWHT). What does 5LWHT stand for? 5th generation in the line of Littleton, Walter, Hakulyt, Thornes. It helps me locate these guys in our family pedigree chart! We did not visit a site related to the Corbets.
5LW is the center of the Universe. It is from here that all matters, great and small, emanate. Actually, I have no idea why I put 5LW there on the map. I have gone through my notes and I can't find anyone remotely associated with what could be Muckley, Shropshire. There has to be a story behind that name.
And of course, I have included Whittington Castle on this map. But, we will save a separate page for that. And as a bonus to this year's first graduating class of the Whittington Roots Tour I will provide a mesmerizing, mind numbing additional map of direct line ancestors who also resided in Shropshire, England. We are talking centuries of famous names in English history. But wait! Get ready to use your phone. If you call now you will also receive a lifelong subscription to our website.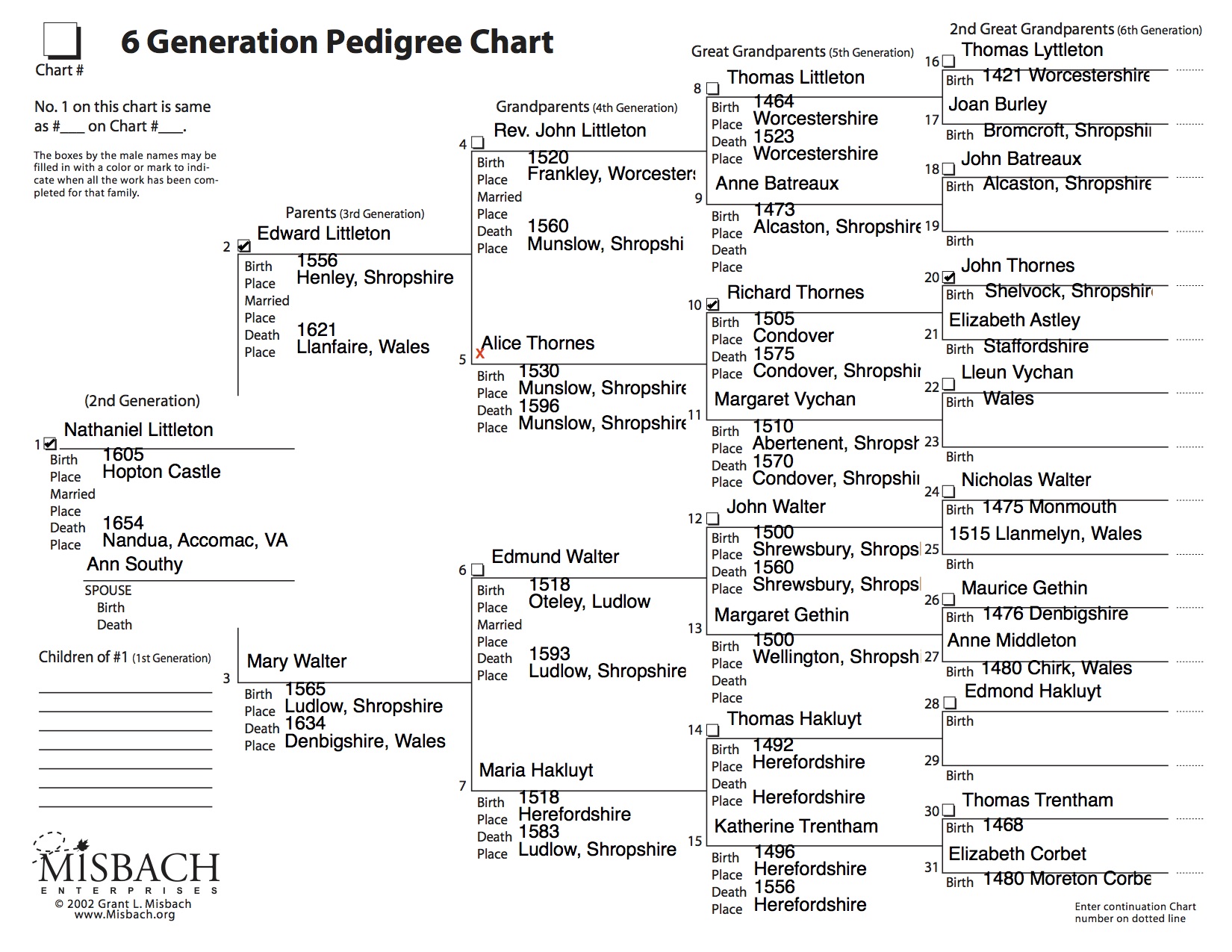 The above pedigree chart shows Whittington Ancestors leading to the birth of immigrant ancestor Nathaniel Littleton, grandfather of Esther Littleton whose marriage to William Whittington leads to the generations of Whitingtons some of whom found their way to Hanover and Garden Plain, Illinois.