As was done in Part I, I am continuing my use of the 1905 plat maps from the Illinois archives. Squaw Grove Township lies to the east of Clinton Township in De Kalb County. The plat map for this township is also populated with families whose roots run back into the latter part of the 19th Century. For those of you who, like me, get easily confused by the numbering system for centuries, that puts us in the 1800s following the Civil War.
DOCUMENT ONE: The Northern Half of Squaw Grove
As we expect, the migration patterns in the late 1800s are revealed in this plat map. German families that moved into DeKalb County were clustered together and crossed into the township to the west, Clinton Township. But the map also reveals two emerging patterns that would continue into the 20th Century: 1) Farmers were expanding their operation and acquiring more lands, distant from their original homestead. Actually, this was not unlike previous generations. We do find plantation owners in Virginia acquiring patents on land that are distant from their original lands. Even the Pilgrims of Plymouth found it necessary to leave their home in Plymouth and spread out to the north organizing new villages, the names of which exist today as large suburban sprawls.
The second pattern that is revealed here is the entrance of non-German families. This would include the Sawyer and Boston clan that begins to appear on plat maps. Swedes and Norwegians migrate into the county and eventually join the Immanuel Lutheran Church in Hinckley, forcing the German language congregation to incorporate an English service at the turn of the Century. Notice the land holdings of the extended Hartman family who married into the family tree. The Baie family also spreads out as each generation seeks to remain in the area and on a farm. I am again assuming M. Rissman represents Martin Rissman, Earl's father. Martin would need to generate a substantial cash flow to feed his substantial family! The Miller family settles in close to Hinckley. The Millers also appear in our tree.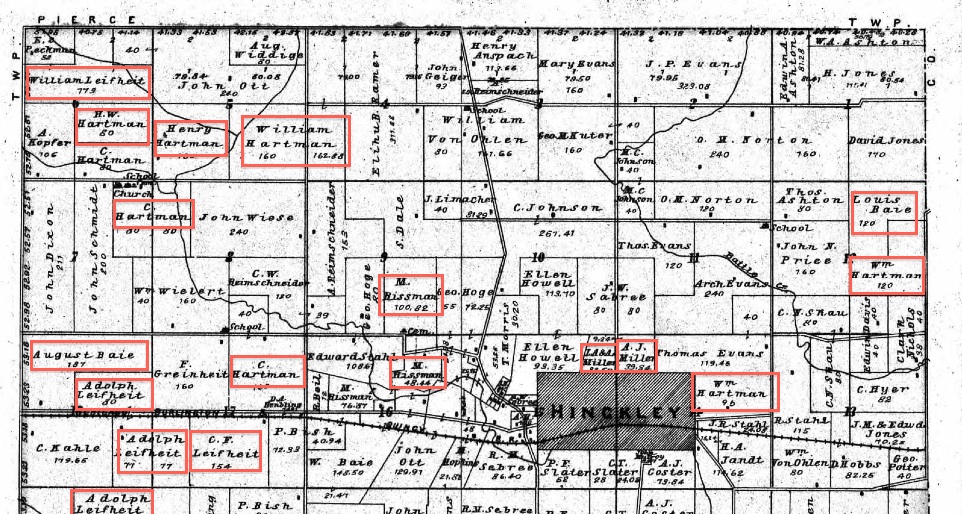 DOCUMENT TWO: The Southern Half of Squaw Grove
The southern end of the township is basically devoid of family names, with the exception of August Baie. As this property lies adjacent to Clinton Towship, I am assuming it lies near enough, if not proximate to his other holdings.