NEWARK, NEW JERSEY  (1666)
The Whittington family tree branches extend through the Osbourne family line and incorporates the DNA of a number of protestant family preachers and deacons who fled the Welsh marsh of Britain and settled into New England. Obadiah Bruehn, the Kitchells, Baldwins and Piersons were but a few of the families found in our tree that banded together as a congregation traveling from Massachusetts to Connecticut, Long Island to New Jersey. In each location they were the founders of communities that are prominent today, including New Haven CT and Newark NJ. To document that connection I have provided the family tree for the Whittingtons and several historical documents on which the families signatured their involvement in the incorporation procedures.
This particular map is one of several found online indicating the footprint for each family's dwelling. A key to the site will be provided. Note the key to References in the lower right corner of this map indicating such important locales as Market Place, Mill Lot and Watering Place.
My intent is to add information related to these properties.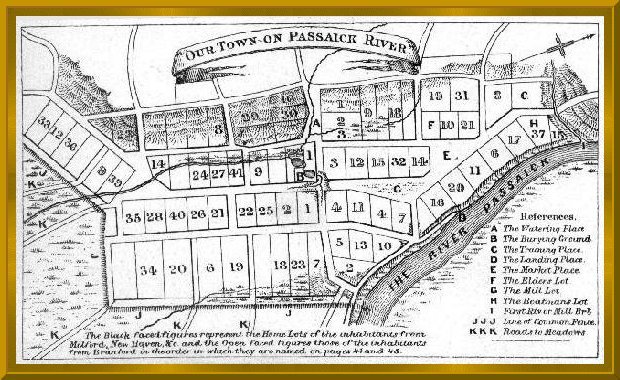 For more information about this rambunctious crew of Abraham Pierson and the Protestant Vagabonds.