John Benedict Hughes and Catherine Burns, Tyndall, Bon Homme County, South Dakota, 1870's
Parents of Grandmother, Mary Hughes
Grandmother Mary Hughes Smith appears in the picture below with sibling members of her family.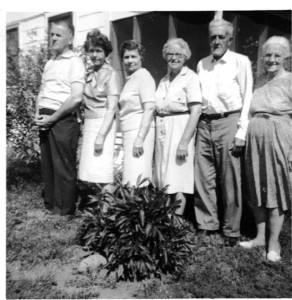 From left to right we find Dr. Leo J. Hughes, Sr. Magdalene Hughes, Helen Hughes Vance, Frances Hughes, John Hughes and Mary Hughes Smith. Leo, Maggie and Helen were the children of John Benedict Hughes and his second wife, Anna Marie Clavin. Frances, John and Mary were the offspring of JB and Margaret Banks.
Every once in awhile it is nice to let someone else tell the family story. It is especially nice when the story teller was around in the 1880's and 90's and remembers first hand the life and times of their relations. Great Aunt Frances Hughes and Grandmother Mary Hughes Smith share their memories in this appended article. Please click on the link below and come back after you read through their recollections and we can add a little more to these details with other evidence of our Irish ancestors.
AuntFrances Memories of her Parents
Bernard Banks and Catherine Burns Banks, Parents of Catherine Burns
Catherine Burns Banks was highly respected for her incredible strength, faith in God and resolute determination in the face of one tragedy after another. Read the accompanying news article for some insight into the pioneer spirit required to survive in the then wilderness of southern Minnesota.
Margaret recalls an Indian uprising in Minnesota that took place in conjunction with the Civil War. Citizens were removed from village homes by state militia and secured in a fort for weeks…
JB married margaret banks out of minnesota… They took a train to Kingsburg SD and walked to house. He rode the trains to Chicago in marketing cattle he purchased …. Margaret dies in childbirth in 1897
JB later married a native seamstress of Ireland…no name given…. this has to be Dooley. they had four more kids… he was killed on his way to church. His stetson blew off. He stopped the team of horses,,, his family got out of the wagon, he went back to get the hat and a train destroyed both he and the wagon.
JB had three brothers: Pete, Tom and Mike, Pete stayed at Harvard. JB hauled supplies from Yankton to Fort Randall on Missouri River Pickstown Dam.