Frederick William ("Chief") Weiherman was born in 1894.  He was a brother to my grandfather, John Weiherman. That would make him a great uncle to those of us who descend from John and Laura Kofper Weiherman. Together, John and Chief, grew up in DeKalb County, Illinois, with their siblings.  While John remained with the family farm for much of his life, Chief was dedicating his life and career to the efforts of the Lutheran Church, specifically to the education of children through the Lutheran Walther League. Chief married Hildegard Hermina Helble. She was more commonly known as 'Wifey' and 'Mom' in her years as the co-founder (with Chief) of Camp Arcadia. Chief and Mom are held in high esteem at the Lutheran Camp located on the Michigan coast of Lake Michigan. Camp Arcadia is the culmination of a dream, a vision that Chief shared with 'Wifey', and they ultimately shared with mankind.
At age 25 Chief was living at 3670 Gravois Street in St. Louis, Missouri with Hildegard, age 23. They were the parents of Esther, age "three and one half" per the 1920 Census report. A Gus Rolling, age 47, was a boarder in the same house. As Chief was listed as renting the home, I am going to guess that he lived in a duplex.  Chief was also apparently known to friends and family as 'Peeny' as evidenced by a letter he addressed to "Brother & Family" (referring to John Weiherman).  The name 'Peeny' is also referenced in one of Private Kopfer's letters from Siberia. As Chief's letter is autobiographical in nature I include it here. The letter is dated 12/18/19 from Cape Girardieau, Missouri. As per usual I will record it as it appears on his page:
Dear Brother & Family:

At last I am ready to leave the Cape and look for my new abode in St. Louis. I am leaving this (Thursday) afternoon  and will arrive in the big city at 8 p.m. if nothing interferes.

Some job to pack and crate al my household goods alone alright. A person finds out how much "junk" has piled up too when you get ready to move. I have just two tons of "stuff" in my car this time.

Taking leave of my kids here reminded me somewhat of my farewell at Hamtramack, although it was not quite so sad.

I will have to store my furniture in St. Louis till I can get into my new house there, which will probably be toward the end of January 1920. Wifie will stay here (with Esther of course) at Henne's till I can pull in there. In the meantime I'll have to room out and eat restaurant grub, so they write me.

I'll have to celebrate Xmas and my 25th birthday alone this time I guess, but after one knocks around for 5 and 1/2 years as I have done since I'm teaching, you don't mind such little things anymore!

Most likely, I'll be installed the coming Sunday. I'll have 33 kids in school, but am supposed to do Mission work like I did in Detroit and get more of 'em. My salary is $100 per month.

My address, till I get into my own house, will be "3670 Gravois Ave., St. Louis, MO." Don't forget to write it on an envelope once in awhile! Wishing you all a Merry Xmas and a Happy New Year, I am Your Dear Brother, Peeny.
"Esther" was their daughter. I believe 'my kids' he refers to are his students in Cape Girardieau. The question arises: who was "Henne" ?  Someone in Cape Girardieau was known to Chief as "Henne." He refers to his wife, Hildegard, as "Wifie" and mentions that she "will stay here …. at Hennes." If she were staying put at their home in Cape Girardieau, Henne could be an affectionate nickname for Hildegard Hermina. That makes a cute poetic combination of names for a married couple: "Peeny and Henne." More likely we will find that 'Wifey' and Esther will be staying at the home of a person with the last name of Henne. Perhaps Chief was renting from a landlord by the name of Henne. I haven't a clue. It may become important to find out when researching Hildegard's family history. It's the kind of information that hangs in the back of my mind and resurfaces when digging deeper into a family tree.
What we do know is that Chief was still at the Gravois address when the Census data was gathered in 1920. As Census data tends to be grabbed the year prior tho publication, Chief may well have been into his new rental home in January of 1920. Esther was about three years of age in 1920. Her cousins Eleanor and Marion Weiherman were of similar age and her cousin Merle was making her entrance into life in 1920.
I was not as familiar with Chief's life as perhaps my cousins are, but I do recall talk of the Walther League and Camp Arcadia. I know that going to camp was an exciting adventure and that when Chief's name surfaced at family reunions it was with affection among his nieces and nephews. Let's look at Arcadia. The Walther League Bible Camp the Weiherman's established at Arcadia, Michigan, with the help of many.
The photo to the left was taken in Arcadia, MI in the year 1911. The village is just 12 miles south of Frankfort, MI and 24 miles south of the Sleeping Bear Dunes National Lakeshore. The camp was added to a lakefront property at the west end of Oak Street, in 1922. The Lutherans were not going to be outdone by their Methodist friends who had been operating "Epworth Heights" on the shoreline further south in Ludington, Michigan. Perhaps I should be more upbeat about this and say that Walter Maier convinced Mrs. Henry Starke, a devout Lutheran and lumber baron, living in Arcadia, that the Methodist Camp was inspirational. I can hear passion in Maier's voice as he conjoles Mrs. Starke: "Wouldn't it be nice if we Lutherans could offer something similar?" She and her son, Charles, made the generous gift of 110 acres of land that became the Lutheran retreat that offered a "Vacation With God." The Walther League began the camp as an outreach program for the youth of our nation. Many of the children might see it as a "Vacation From Dear Old Mom and Dad."
In her history of Lutherans the author, L. Deane Lagerquist, notes that Bible Camps in America originated with the Pocket Testament League. Through out the early decades of the 1900s Walter Maier was successful in developing several camps and programs, including one in the Poconos. The Walther League's Camp Arcadia combined outdoor activities with Daily Bible study and worship. To the left we see a group of happy hikers decked out in the garb of the day, long before REI designed fashions for the trail. I wonder if the woman to the left is Hildegard.
The intent of such camps was to contribute to the "development of spiritual disciplines, a moral life, and leadership skill." The author, Lagerquist, further points out the fact that "not all Bible camp music met standards for Sunday morning use in congregations, often the whole experience enlivened camper's Sunday school and confirmation class knowledge in ways that would have pleased their pietist ancestors." I found that reference to piety particularly fitting considering the history of my wife's ancestor's participation in the Antinomian Controversy in the Massachusetts Bay Colony debates c. 1638, regarding the role of women in the church and the rules of piety among Puritans and Presbyterians alike. If camp investors were looking for someone who could breathe life into a Missouri Synod youth program, Chief and Mom would more then fill the bill.
Walter Maier, the promoter behind the camp, published his observations regarding Arcadia, in one of his press releases in the Messenger, as follows:
"We found Arcadia to be a modern little town of about eight hundred inhabitants, an up to date business secetion, with electric lights, and convenient facilities for serving its inhabitants and the tourist who flock there in the summer… The proposed site of the Walther League summer training camp consists of two connected portions, one to the south, a long and narrower stretch of shore land, with the weird loveliness of the dune country, and with sandy beaches, white and pure and dazzzling, all bordering on Lake Michigan whose breakers roll in upon this shore in ceaseless succession; and the other part to the to north, much wider and less hilly, an awe-inspiring virgin forest, pervaded by the pungent oder of the balsam, the pine, the cedar, trees of the Northland, and reaching out the edge of the lake."
Jon Pahl, author of The Hopes and Dreams of All, notes that
"W.F. "Chief Weiherman was appointed the first general manager of the camp. He and his wife, "Mom", ran Arcadia for forty-one years. What Weiherman found in 1923 when he arrived in Michigan, however, was not quite what [Walter] Maier had depicted. Paul Prokopy recalled how  "Chief" met me at Pere Marquette Railway, coming from St. Louis, on the way to Arcadia. His orders were brief. He was to use his discretion and intiative, at an undeveloped, but potential camp site, where one of the old buildings, with which to get started, connected with the Starke furniture company, also provided the convenience of some running water – from the roof."

Within three years, two large lodges had been constructed on the site, and Chief had an annual article in the Messenger describing how Arcadia was making leaders."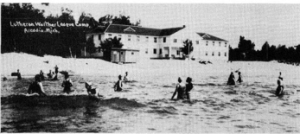 Chief had three buildings constructed by local builder, Leo Tondu and his sons. The timbers were barely in place when the Weihermans began their lifelong commitment to filling the bunk beds and carrying out the mission of the camp: a "young persons training camp." Maier began promoting the camp on his recently established radio station, KFUO, out of St. Louis, Missouri. That's right. I did say St. Louis. It was in St. Louis that Maier recognized Chief's talent in providing a Christian education to youth, and encouraged Chief to return to Michigan. Chief had left Hamtramck in 1918 and was now headed north to Michigan again. Radio Station KFUO became the voice of the Lutheran Hour, which will be celebrating a one hundredth anniversary in the near future.
Once the camp got rolling it developed a culture that would reflect the values of Chief and Mom.  Bernice Baker authored an essay on camp life in the Messenger titled: A Day at Arcadia.
"Out of a deep sleep…. to awaken to the sound of a bugle call somewhere in the distance, muffled by the continuous rolling in and out of the lake…. To breathe deeply and happily the fresh, clean air… and to sit up in bed for a moment and look out at the sparkling waves and the morning sun…. what joyous and blessed feeling of freedom and ecstacy!"
Okay. I think she lost me at the bugle call but won me back when she mentioned she slept in a bed and not on the ground. Baker goes on to report that a morning lecture followed the breakfast and the speaker "better be good, because, if he isn't he will be tripped up by someone."
Jon Pahl notes that not everything was serious lecture and rote memorization of the Bible. He quotes a paragraph from one of Chief's marketing pieces found in the Messenger:
"The friendships you make at Arcadia will help to dispel the gloom of these hard-pressed times, and will add new happiness to your life. Here is an investment which is not only safe, but which will bring rich returns in the future."
To the left is one of Chief's marketing pieces, or calls to action, published in the Messenger. He was known for his upbeat approach to finding the joy in being a Christian and supporting the mission work of the church. Chief was a bit more astute than one of his colleagues back in St. Louis. In an attempt to grow the Walther League and its' mission during the pit of the Great Depression, a gentleman by the name of C. F. Nitz encouraged the efforts of good Lutherans everywhere by writing as follows: "Missions are like a bank. You must put something into it before you can get any interest." As banks were failing miserably at the time, the analogy was a downer. The publication may have been pulled from the narthex of the Immanuel Lutheran Church in Hinckley, not long after it arrived in the mail.
The Weihermans and the timbers used by Mr. Tondu in the construction of the original lodges both lived long and hearty lives into the 1960s.  Daughter Esther, who acquired her own nickname in life, "Rinkie", was the first person to ever marry in an onsite Arcadia ceremony. Chief passed away in 1963 and present day literature and camp officials continue to honor "Chief and Mom" for their dedication to the Word of God and the work of the Camp. Under Chief's guidance the Camp expanded its outreach to people of all ages and provided families with a unique opportunity and alternative to Disneyland.
Author Jon Pahl observes that Camp Arcadia floundered for 6 years from the time of Chief's passing in 1963 to 1969. The Walther League could not find a camp manager with the skills and passion of the Weihermans. A succession of staffers tried, but the camp began to fail. The Walther League sold its' interest in the property and program  to several investors who valued the camp and needed to see it succeed once more. Those first few investors has grown to a confederation of 1,000 Lutheran families who have maintained the camp since 1969. It is my observation then, that the combined passion of 1,000 families equals the drive of one family of three Weihermans.
NOTES:
For thumbnail sketches of John Weiherman's parents and siblings please follow this link if you haven't already.
For further information on the history of Camp Arcadia, see:
 Camp Arcadia: The First Sixty Years, by Dr. Frank W. Miller, J.B. Publications, Manistee, 1982
 and
The Hopes and Dreams of All: The International Walther League and Lutheran Youth in American Culture, 1983-1993, Dr. Jon F. Pahl, Wheat Ridge Ministries, Chicago, 1993.
To go right to the Camps tribute page to Chief and Mom Click on The Archives.