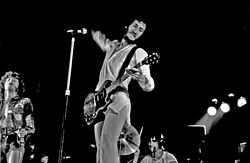 "Who! Who! Who are you? I really wanna know…." –Pete Townshend
In the ancient art and science of genealogy it is not uncommon to hit what is called the brick wall…. that point at which it is no longer easy to find useful information that links your existence to the ancient ancestry waiting to be discovered, uncovered and brought back into existence. A family Bible only carries a researcher back to the mid 1800's. An application to join the Daughters of the American Revolution (filed by a descendant eager to claim ascendancy as an elite, patriotic American) becomes misleading when the researcher discovers that the William Sanford they were hoping to find was really loyal to the King of England and fled to Barbados to escape the gallows and a lynch party composed of former friends and neighbors. Never mind the fact they all once shared a pew as Friends in a meeting of Quakers.
Somewhere between truth and fiction lies an ancestor longing to be found. An avid researcher always hopes to find a family link to the heroes of our past. I can escape the mundane life I live today and wrap myself up in the more exotic tale of a previous century. How cool it would be to find that I am the sixth cousin twice removed from the second cousin of a woman who once slept with the Queen of England? Imagine the stir I could create on Ancestry.com if I could develop ancestral links to the Czar of Russia, the Emperor of Ethiopia or a mob boss in Boston. I could Instagram photoshopped pictures, create a YouTube video, add it to my timeline on Facebook and tweet the discovery to all who follow my blog. At the end of the day I could go to sleep knowing that I am no longer living that mundane life of late night TV shows and MP3 music pumped into my inner ear over a meal of Burger King's finest French fries. Perhaps Steven Colbert, John Daily or Jimmy Fallon would invite me to dazzle them with my newborn sense of importance. I could do something salacious and expose my tree on public television.
And therein lies the problem when one runs into the infamous "Brick Wall." The ancestral trail becomes blurred and disappears in the cosmic dust of cyberspace. The libraries that hold the possible deeds, records, census reports are too distant to spend a day combing shelves for one chard of missing evidence linking me to any one of a number of historicl figures. It is at this point that I have to tack a UNK (unknown) onto the family branch or a simple "End" admitting that I have given up hope of resurrecting a forgotten relative. That unknown relative is stuck in purgatory, left to watch reruns of the best commercials of 1957, forced to eat tofu until someone with the latest software, probes the deep recesses of cyberspace and locates a digitized form found in the the Faquier County Courthouse.
There is another choice at this point, and here is the temptation: Give up the science of genealogy and adopt the art of the same. Become creative! Jump into a website that caters to the growing mob of people eager to find themselves in history. Like me, they hit the wall at some point in the past. Many of them trace their line back to a point where it intersects with my ancestral line. They will call me "Cousin." It is amazing how many of us legitimately descend from William the Conqueror, Charlemagne and Genghis Khan. But in lesser ancestral trees, someone hit that wall and spent ten years trying to burrow through it hoping to make a link to Joan of Arc, as an example. They finally got frustrated enough to post a guess. They added a child or two to a couple at one point in history and an illegitimate child at another point and "Voila! We are descended from Joan of Arc!" The guess is copied by others who fail to study the details of the linkage and pretty soon Joan has all kinds of great grandchildren, even though she actually died a virgin! Osmosis I guess.
Look closely at the errors recorded in online data and be dazzled by the fact that people born in the 1800's gave birth to children born in the 1700's. Fathers were fathering kids at the age of 8 and mothers were giving birth at age 10. This all happens in the name of making links that create a bloodline leading to a desired character or historic event. It is a temptation that needs to be avoided.