I was asked, "How does Caernarfon Castle tie into our family?" The question wasn't "Why are we going to Caernarfon Castle?" The answer to that question was made obvious when one examines the online literature related to driving through Snowdonia just to get to Caernarfon. It's a beautiful countryside. And the literature related to the castle itself makes it apparent that the place has some cool aspects related to history.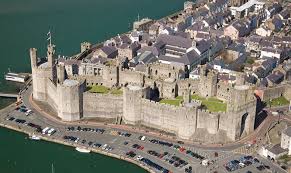 This is an aerial shot of the castle as it looks today.  The parking lot wasn't there when Edward I (1239-1307) first pulled up to it in his limo to examine the handiwork of the stone mason and chief architect of European castle design, James de St. George. The castle you see to the left replaced the motte and bailey 'castle' of previous centuries.  The motte and bailey system usually consisted of a keep (wooden tower) perched on a knob of a hill surrounded by a tall fence (palisade) of timber planks rising vertically from an entrenchment.  All of this might be surrounded by a moat, or stream bed as in the case of Shrewsbury castle and Ludlow castle, where rivers had to be forded to mount an attack on the castle walls. The motte and bailey fortress replaced an old Roman garrison, Segontium, which the Caesars used to protect the northwestern most extent of their Roman Empire (finally departing in the 5th century).
As for family:  Wales and Shropshire were part of an area referred to as the Welsh Marches. It was a region torn by war among the Welsh, Britons, Normans etc.  Great grandparents are found on all sides of the conflicts related to Caernarfon and other related castles in medieval times. Let's begin with Edward I, (Longshanks) the Plantagenet king who built this bastion. I will direct you to the online links if you want to dig deeper into each of the rascals I mention. That saves me time to do other things today, like building my own rock wall in the backyard.  The wooden railroad ties that used to keep the dirt in place are rotting.  Edward I had to replace wooden planks with rock to keep our Welsh ancestors out.  I have to replace the wooden ties with rock to keep equally ferocious chipmunks out.
Edward I was Betty's 17th Great Grandfather in the lines that descend through both Obadiah Bruen (Gramma Laurel Sullivan Whittington) and Nathaniel Littleton (Grampa Bruce Whittington).  While putting this article together I combed through the pedigree charts in ancestry.com and found that Smiths also descend from Edward I as do Slaymakers via the Parker family line at the time that Eliphalet Parker married Hannah Beach.  Edward I was the grandson of King John I (Lackland). Let's start the conversation with Lackland's kids.
Lackland (1166-1216) is Betty's 19th great grandfather and this is where the tree gets gnarly in a European monarch sort of way.  The monarchs liked to use their daughters as jail bait for other kings and princes to marry. I say jail bait in a quite serious manner.  A princess could find herself obligated to marry at birth, often by age 8 and actually in bed with their husband by as early as age 12 (but usually 15). It was all about gaining political leverage, building alliances with other kingdoms and waging war on common enemies. A king had no obligation to remain faithful to anyone let alone his wife; and Lackland was notorious for bedding down any woman.  His offspring had a multitude of mothers and numbered in the twenties, some think as many as 29.  We have nothing to brag about as Lackland's descendants.  I am almost certain that half of London carries his DNA.
Those children of Lackland with some tie to our family and Caernarfon and Wales are Eleanor of Leicester (1215-1275), Joan Plantagenet and King Henry III (1207-1272). They are all great grandparents and by virtue of their sibling relationship with one another, they are also our great aunts and uncles.
Let's start with Joan Plantagenet, Lady of Wales. How did she gain that title? One word: Marriage. On the Welsh frontier, the English had one very notable warrior to combat, conjole and confine: Llywelyn ap Iorwerth (aka: Llywelyn the Great) (1173-1240). He is Betty's 22nd great grandfather. I picture him as sort of the Clay Matthews of his day, hopped up on mutton. Llywelyn descends from a pretty spectacular range of ancestors himself. His forefathers menaced the Romans one thousand years before Llywelen came upon the scene in 1173.
The Welsh lords held the Britons in place and then checked the Saxons when they arrived on the island. Not even William the Conqueror could succeed in vanquishing the Welsh rascals in 1066. He tried. He put my great grandfather, Roger de Montgomery, in charge of various attacks with limited success. Roger started building castles every ten miles to garrison troops along the border. Roger's sons, Hugh and my ggf, Arnauf, conquered large parts of Wales and Ireland. Arnauf established a fortress at Pembroke, to the south of Caernarfon.
An interesting footnote about Llywelen's family: There is historical and archaeological evidence that Llywelen's uncle, Madoc, sailed the Atlantic Ocean and developed a Welsh community in present day Alabama. He returned once for supplies, reported his findings and vanished on the horizon, presumably to host the first football game between Auburn and Alabama. I found the research incredibly interesting and not improbable. St. Brendan of Ireland had reportedly journeyed to New England via the Atlantic in 520 a.d..  Think about it. The Romans had ocean going naval vessels rounding the Rock of Gibralter and heading north to Caenarfon in 300 a.d. Is it such a stretch to think European explorers, long before Columbus, were exploring the Americas, in search of fast food, outlet malls and reasonable Ticketmaster prices?
Unable to conquer the Welsh, King John Lackland resorted to the usual back up plan. He offered Llywelen the hand of his daughter in marriage and Llywelyn accepted the bait. Llywelen needed Lackland and Lackland needed him. Lackland offered Joan Plantagenet and Llywelyn said, "I do."  They resided at times in Caernarfon. Joan is both a  grandmother and great aunt, depending on the route you take to get to the present day. The marriage was not without difficulty and required that Llywelyn either kill Joan or imprison her.
King Henry III: father of Edward I, son of Lackland and Joan's brother, came into power at his father's death in 1216, one year after Lackland signed the Magna Chara. Needless to say, the death of Lackland prompted every baron in England and half of France to claim rights to the vacant throne, igniting the First Barons War. His forces were led to victory by the number one rated 'gladiator' in the annals of British history, William Marshal. Henry's rule was nothing if not a roller coaster of bedlam, blunders and bashings at the hands of the barons and French. At one point in time he was deposed in a coup d'etat sponsored by a great uncle of Betty's Simon de Montfort (1208-1265). Simon had Henry III locked up for awhile and acted as ruler in his place. Were it not for Henry's son, Edward I, history would have taken a different turn. Edward defeated Simon, freed his father and became king. We will come to another twist with regards to Simon in a moment.
And finally we have another sibling, Eleanor of Leicester, who marries into the families of two of the biggest names among the movers and shakers of 13th Century England: 1) William Marshal (protector of the king) and 2) Simon de Montfort (nemesis of the king).
A second daughter of Lackland, Eleanor of Leicester, was first married to our great uncle, William Marshall Jr. She was promised in marriage to William (1190-1231) when he was 34 years of age and she was all of 9. Her father (King John Lackland) had already died in 1216. She was not quite one year of age when her father passed away. William Marshal's father, (our ggf) William Sr, is an icon in British history. William Marshal Sr (1146-1219) is Betty's 23rd great grandfather. Finding William Marshal Sr in a family tree, to me anyway, is like finding Winston Churchill. He was a powerful force at a time when England needed a strong man behind the scenes. He was 73 when he died and he had served five English kings in the course of fifty years. That says something about health care services in England at the time. It also speaks to the difficulties that accompany a desire to keep one's head when going on crusades and tackling the local aristocracy. William Marshal Sr, a Welsh baron (First Earl of Pembroke), had ten children that I can count and Nancy descends from three of them: Maud, Eva and Isabella Marshal. Betty descends from two. Why is that?
Isabella Marshal: married a guy named Robert Bruce (1210-1295) who had a son named Robert de Bruce (1243-1303) who had a son named Robert the Bruce (1274-1329) King of Scotland. And there you have another of our Celtic connections. The tree, as it tumbles down to the present day through the family of Grampa, Robert Bruce Slaymaker, can be found elsewhere in this mish mash of blogs, matter and anti-matter. If you are the King of England and have Robert Bruce and Llywelen the Great as your neighbors, you are going to have difficult moments. I find it fascinating that the family tree contains, as great grandfathers both the kings of England and their adversaries, Llywelen and Robert Bruce.
Eva Marshal married William de Braose (1197-1230). William de Braose was known as the ogre in Wales. He was homicidal and loved to annihilate men, women and children in order to maintain his power base.  Their daughter Maud married Roger Mortimer (1231-1282). The Mortimers and de Brarose family were Welsh Marcher Lords whose exploits took them from Caernarfon to London and France. Roger and Maud are Betty's 21st great grandparents. They had a son Edmund who had a son Roger de Mortimer (1287-1330) whose exploits ravaged England for several decades. He seized power when Edward III was a boy and not yet crowned king.  Roger and his wife dominated England for three years before he was summarily executed by King Edward III, who at the tender age of 17 seized control from Mortimer.  Roger had married Joan of Geneville whose home had been in Ludlow Castle. When Roger took on King Edward II she (Joan) was imprisoned for two years at Skipton in the Yorkshire Dales, just south of Sedbergh. Roger fled England and became the lover of the king's wife, Isabella. Together Roger and Isabella plotted an overthrow of the crown.
It's a long story involving political intrigue, mayhem, murder, class warfare…. the usual ingredients of British gallows humor. Find the details online at Roger Mortimer.
At the bottom of that linked page the authors note the marriages of Mortimer's children (three sons and eight daughters). The marriages demonstrate how families used the bond of marriage to bond various lords, barons and earls together in a compact that increased power and wealth. As witnessed by the entry found in Wikipedia, the Mortimers married into the following clans: de Badlesmere, Berkeley, Charlton, Audley, Beauchamp, Hastings, Norfolk and Grandison. All but Grandison appear as surnames of great grandparents found in our family tree.
Here's the sad story from my perspective. Roger de Mortimer seized the properties of my Montgomery family and he annihilated part of a Despenser family, which appears to be connected to my Smith clan.
Maud Marshal: 1192-1248 had two equally famous knights for husbands: Hugh Bigod and William de Warenne. She was heir to her parent's fortune which made her a major land holder in north Wales and Ireland. Hugh Bigod was one of the 25 barons who forced Lackland to sign the Magna Charta. William de Warenne remained loyal to Lackland throughout the war with the barons and quietly advised the king to sign the Magna Charta, as the situation became hopeless.
The First Barons War is but one example of how the nobility in the Welsh Marches rose up against the kings of England. There are also examples of how they warred with one another within our family history. William Marshall Jr attacked and seized Llywelen's castles in Ireland. Another grandparent, Hugh de Lacey, then attacked William Marshall Junior's Irish holdings and claimed them for his own. These events often took place when the monarch was weak or in dispute (or both).
The early history of Caernarfon is family history. Various great grandparents slept there, feasted, waged war and engaged in political intrigue.