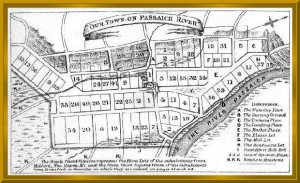 There is a bit of an archaeologist in every genealogist or any amateur simply hoping to learn more about the forefathers. One must learn to recognize the terrain and dig carefully. It is exciting when we learn more about a loved one:  A grandfather who passed away before we arrived on the face of the earth, a grandmother who held the family together in hard times. As we peel back the layers of time we find characters who seem to leap from the pages of a Charles Dickens novel or Mark Twain story. As these commoners come alive they may lead us to a gateway. A 'gateway' is a person who will take you to the castle wall and lead you into the domain of kings and queens. Obadiah Bruen is a gateway for many Americans with a link to European thrones. He is a great grandfather (9x) in Nancy's Whittington Family Tree.
Obadiah was born in 1606 to parents, John Bruen and Anne Fox. He was baptized on Christmas Day, 1606 at St. Andrews Church, Tarvin, County Chester.  The Bruen family name first appears in the annals of British records in 1230 and the records do allow one to trace Obadiah's ancestry back to Robert Le Brun, of Stapleford (1215). The birthplace (Bruen, Stapleford, Cheshire, England) is six miles to the east of Britain's border with Wales, and fifteen miles southeast of Liverpool.
John Bruen (father of Obadiah) was born in 1560 and married Elizabeth Hardware of Chester, England. They had five sons and two daughters before Elizabeth passed away. John then married Anne Foxe and Obadiah and three other sons were born. Anne died and John married again and more babies were born. John fathered nineteen children in all. Rumors that he was trying to create a soccer team that could compete with Manchester United to the north or the Liverpool Football Club were unfounded.
Obadiah came to America in 1639 at age 33, with his wife Sarah Seeley. He was identified as a draper, of Shrewsbury, England. A draper was neither a tailor nor a person who made drapes.  A draper was a member of a corporation invested in land patents. He was a shareholder in land speculation.  He had purchased a share in the Piscataqua patent on May 4, 1640, from Richard Percyvall of Shrewsbury. When he arrived in the New World he made his way toward his land in Portsmouth (New Hampshire). The  Piscataqua River separates present day Maine and New Hampshire.
He didn't stay put for very long and moved to Plymouth, Massachusetts. He is identified as a "Freeman" in the Plymouth Colony on March 1, 1640. It was important to be a freeman in the feudal society that imperialist countries were establishing in the New World. Slaves were the lowest caste.  Indentured servants were one rung above slaves, owing years of service to the person paying their expenses.  Freemen came to the continent on their own volition and were able to pay for their transport on the ship. They at least came here without owing time and money to someone else. It soon became important to distinguish a struggling freeman from the wealthy and very wealthy. The concept of the Burgess evolved. It took the approval of the Board governing Plymouth for Obadiah to gain his status. He didn't sit still and moved his family to Gloucester, circa. May 19, 1642. One month later he was able to unload the Piscataqua property.
He didn't stay put. He and his companions moved and were founders of the New London, Connecticut community in 1646. He was always active in his communities and assumed the roles of town officer, deputy, surveyor of the arms. There are numerous articles and even books based on the lives of the Bruen family.  There is no one whose public service record is more detailed and as busy as Obadiah.  He was the poster child for the Chamber of Commerce Citizen of the Year award.
The importance of Obadiah in the history of America can't be understated. He was involved in one of the key moments in the evolution of our colonies. He was one of 19 citizens including John Wintrop, the Clarkes, Wolcotts and other colonial leaders to petition King Charles II for the Charter of Connecticut. The King granted the charter. Obadiah could benefit financially as one of those the King would provide a patent. He could acquire more land. But Obadiah made history when he put principle above profit.
Obadiah was clearly a man of principle.  He had pushed for the King's Charter and he was now in a position to profit in a large way from his patent.  He was quickly disappointed with the way events played out after the charter was granted.  The fact that the King was forcing two colonies (Connecticut and New Haven) to merge under the terms of the Charter grieved Bruen. He did not see that coming. Nor did he anticipate how the 18 other petitioners would proceed.  Democracy was not working as it should, in his opinion. The civil rights of the minority were being trampled, including and most importantly to him, religious freedom. The two colonies held disparate views on the matter of church and state relationships. For more insight see g-grandfather Abraham Pierson.
Obadiah, in the late stages of his life, uprooted his family and with the colonists from New Haven and several other communities, vacated Connecticut and moved lock, stock and barrel to New Jersey. I know what you are thinking:  He started off in the magnificent Maine/New Hampshire seacoast and ended in New Jersey. Keep in mind, the Jersey Girls and the Sopranos were not around at the time. Jersey was still a pristine place on Earth.
I find it interesting that Obadiah Bruen was buying up the land that is present day Newark, NJ, in 1666-67 from the local tribe at a time when the Stilles and van Couwenhovens of my ancestors were in the neighborhood contributing to the growth of Manhattan, Long Island and the Jersey shore. Obadiah continued his role as leader and he was surrounded by a nucleus of church members, civic leaders, family members who formed a tight knit support group.  More will be written about the Piersons, Kitchells, Sheafes: all leaders in the Connecticut/New Jersey colonial struggle for religious freedom and civil rights in general.  All of them are great grandparents in the Whittington/Slaymaker family tree.
To understand how Obadiah fits into the Whittington/Sullivan please click on these links.  Each link will take you to 6 generations beginning in the present day.  descendants to present day:  (1) Whittington (2014) to Carey (b.1814).   (2) Emily Carey (b.1814) to Sarah Bruen (b.1617)  and (3)  Sarah Bruen (b.1617) to Obadian Bruen (b.1606) .